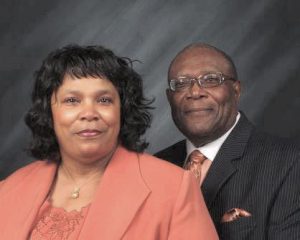 On July 15, 2003, Elder Joe L. Cunningham was selevated as Pastor of Greater Faith Apostolic Church. At the time he and his wife, Evangelist Augusta, were members of Christ Temple in Kalamazoo, where Diocesan Bishop Harry L. Herman was their pastor.
Eld. Cunningham had formerly served as an Assistant Pastor both to the Late Bishop David L. Ellis, and subsequently to his son, Bishop Charles Ellis III, at Greater Grace Temple in Detroit. His membership there spanned twenty three years.
Pastor Cunningham worked for the Detroit School system for thirty-five years as a teacher and administrator.
His educational training includes a Bachelor's degree from Bradley University, a Master's degree from Wayne State University, as well as post Master's studies at the University of Michigan, and Aenon Bible College.
Over a decade ago, Eld. Cunningham retired from the school system, and Sis. Cunningham retired from the Detroit Police department after a twenty five year tenure. The couple relocated to South Haven, Michigan, where Elder Cunningham has a host of close relatives.
As a new pastor, Eld. Cunningham has declared that his goal is to "lead as many souls to Christ as possible." He has stated that the heart of his mission is "living what I teach and preach."
In 2016 Pastor Cunningham was elevated as Suffragan Bishop giving him a greater desire to do God's work.